In case you have no background in this industry, you might be surprised to hear that in pharma we actually have two different customer engaging functions/roles, commercial and medical affairs. Ideally, those two functions should work hand in hand for the same customer, but at the same time they also follow different logics. I don't want to get lost here in details about rationale and history behind, it simply is reality in most pharmaceutical companies today.
The reason why I am picking up the topic is that over the years I have been repeatedly surprised about the poor understanding of both for another. Even people working in the industry since years are sometimes showing a frighteningly low knowledge of their peer function. And based on that, reciprocal appreciation of the added value by the other often seems to be more an exception. This is actually really dangerous, because the full power is played by the combination of both approaches.
But what is the difference between "commercial" and "medical" ways of customer engagement in pharma?
In a simplified nutshell definition, "commercial" covers the promotional aspects of the pharma business, including product strategy, marketing and sales. Where "medical" covers the non-promotional engagement, covering disease strategy, contributing to the progress of the science around and having customer discussions on eyes height.
This might not be a perfect explanation, but it gives you a kind of flavor of the different approaches. One is not per se better than the other. And – as mentioned before – in smart set-ups they are integrated into a joint approach, providing the full traction and effectiveness by complementing each other.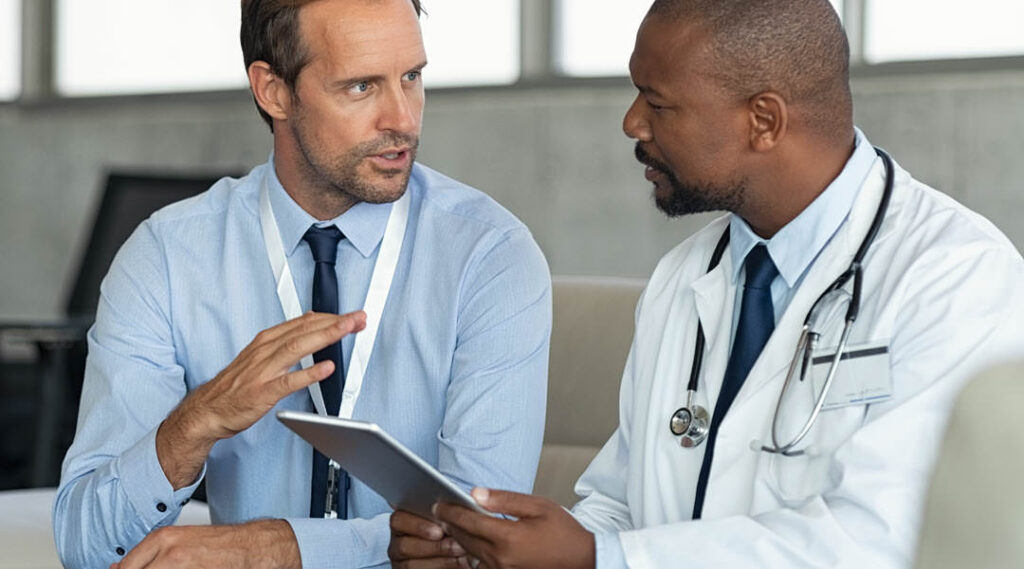 In day-to-day reality, I frequently stumbled upon frictions, by far not limited to a single company or disease area. I am now not going to open Pandora's box of real life stories and anecdotes. But I feel free to directly jump to some very personal suggestions for overcoming the schism and getting to a more integrated cross-functional customer engagement approach …
… what medical affairs colleagues need to understand (and I find more and more that already do):
Advancements like CX and omnichannel certainly also relate to "medical". They might have commercial roots. But applying the principles and concepts holds amazing opportunities for medical engagement, too. The more if you aim at truly customer-centric holistic and 'agnostic' engagement. And – if you allow me to add – don't allow an alleged 'commercial wording' used with CX, omnichannel & co. to estrange you from the huge opportunities provided.
In case you are feeling that the value provided by "medical" is not being properly recognized (by commercial colleagues), I hope you forgive me if I say "get over it!". CX is about the customer and not about you or me. Medical affairs adds a huge value to the customer and a vital to the business. Get out of the sulking corner. Play your strengths and talk about it. If you don't acknowledge yourself, why should others do?
You might also ask yourself if you really always fully appreciate the added value provided by commercial colleagues? Making data and science nicer and easier to digest is a capability where "commercial" is often more gifted than "medical", I am afraid to say. Good science doesn't mean that it needs to be a lot of pages with dry block text. HCPs* appreciate science in a plain and enjoyable shape, science that is fun to absorb. And patients even more.
Start thinking about how medical affairs can add unique value to an enterprise approach towards having a more agnostic customer engagement. The customer doesn't care about what your corporate division is. The customer sees the company and wants to have simple and unified access. And the customer doesn't appreciate being a sales target but having us as partner in caring for patients. This is the point where medical knows how to liaise in an effective and trusted way.
It is time to be more bold and ambitious. I am afraid to say that the medical affairs' comfort zone of science and data might not be enough anymore. For the benefit of an impact-driven enterprise approach, medical affairs needs to place its strengths stronger and more proactive. E.g., medical affairs people sitting in product teams need to show more courage with speaking up, advocating for the customer, and challenging the way how things always have been done.
… what commercial colleagues need to understand:
It is time to realize the incredible power of the medical-scientific way of customer engagement

, not limited to but especially with regard to trust and relationship building.

It might be smart to more actively consider the high customer acceptance and door-opening-capability of non-promotional engagement, which is reflected in nearly every customer feedback research I have been exposed to during the past years. In the digital space more than ever.
Stop complaining about medical compliance as being over-protective or a "medical silo defense". The rules are external expectations, which are in place for very good reasons. It is a feature not a bug, ensuring that every patient gets the right, safe and effective treatment.
Be more bold with listening to your medical peers' opinion and suggestions. I promise it will be to your advantage.
Start realizing that the future of pharma customer engagement might require being more 'medical' than ever before. It is more and more getting obvious that this is the space to win. And that also any successful agnostic approach might require being closer to the medical way of engagement than to the (traditional) commercial one.
OK, I know some of my statements have been quite strong and might even sound provocative to some of you. And I am more than open to your opinions and discussing it (feel free to share via the comment form below or drop me a personal note, please). We need to start to openly speak about traditional comfort zones and frictions. It is really time to get over it. Our collective ambition is to create impact with and add real value to our patients and professional customers, right?!
This site is about CX, the experiences of the customers. Perhaps the best suggestion of all might be simply to stop considering internal labels, to – together – focus on a joint approach, having the customers and their expectations in the center, and to more appreciate the added value provided by each role/function contributing to an enterprise ambition.
* HCP = health care provider or health care professional in pharma language, so e.g. physicians, nurses, caregivers, pharmacists