Many roads lead to Rome. But knowing which of those have worked for others before, doesn't hurt.
Today, I would like to share with you the basic structure of a real CX team in a pharmaceutical enterprise on global layer … as one example how a set-up could look like. Perhaps it provides you some inspiration. I am heading such a team since November 2019.
The team structure reflects a full CX value chain (or perhaps better, 'value circle'), from insights to measuring impact of the solutions. Covering customer content, customer platforms, evolution of medical customer services as well as inspiring the organization with CX.
---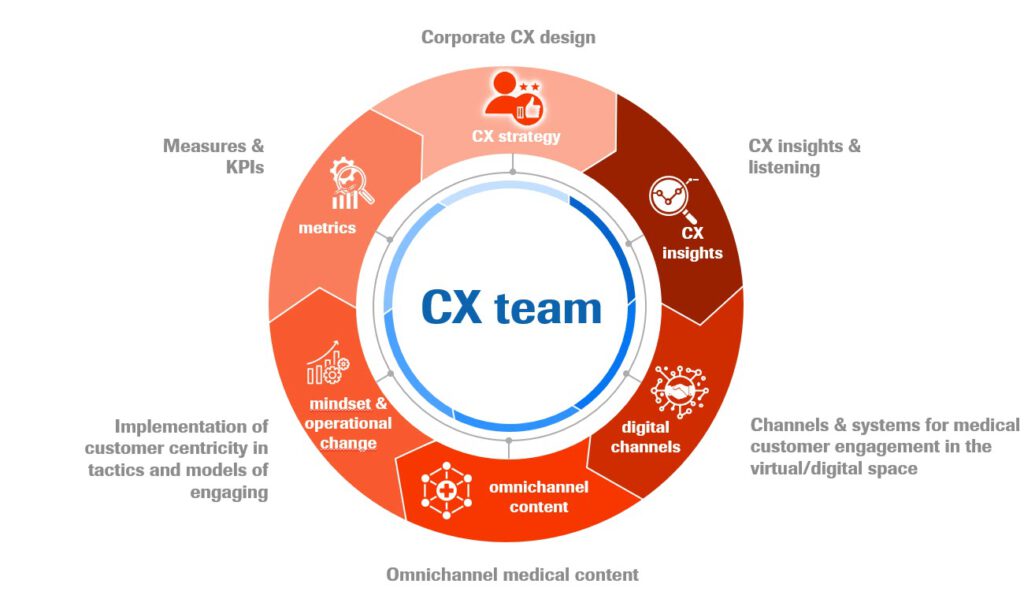 ---
Why is this CX department a high performing team?
Well, let figures speak. Within 12 months, a core team of 10 people delivered …
availability & evolution of 14

global platforms & tools (syst

ems)
contributed to 9

strategic initiatives on enterprise level

lead or contributed to

6

CX insights & metrics projects

supported 6

initiatives on disease area level

lead with 5

customer content improvement initiatives

contributed at least 4

innovative advances to medical customer services e

volution
3 usage metrics dashboards

providing insights on user behaviors as well as success measures

key contributions to 2

cross-industry initiatives

provided 1

digital content best practices framework

, co-created with colleagues from affiliates and other corporate functions
released 1

internal resource inspiring CX across

the organization by sharing best practice examples
developed and executed 1

internal CX masterclass for the team and "family & friends" (i

nternal partners)
Which team functions form the CX value chain?
The CX team is composed of 4 roles contributing …
CX Insights Lead (n=1-2) – not doing research (which is covered by another department), but guiding the CX team as well as the broader organization with inspiring insights implementation & use, smart metrics, and outside-in driven approaches.
CX Leads (n=4) – exploring and driving strategic disease-spanning initiatives that are improving customer experiences across products and categories. With a particular focus on content and providing answers to real-life customer questions.
Digital & Content Solutions sub-team (n=5) – hosting all global layer medical customer platforms, systems and tools, including associated processes and services.
Internal partners & collaborators – which we see as making our team whole.
---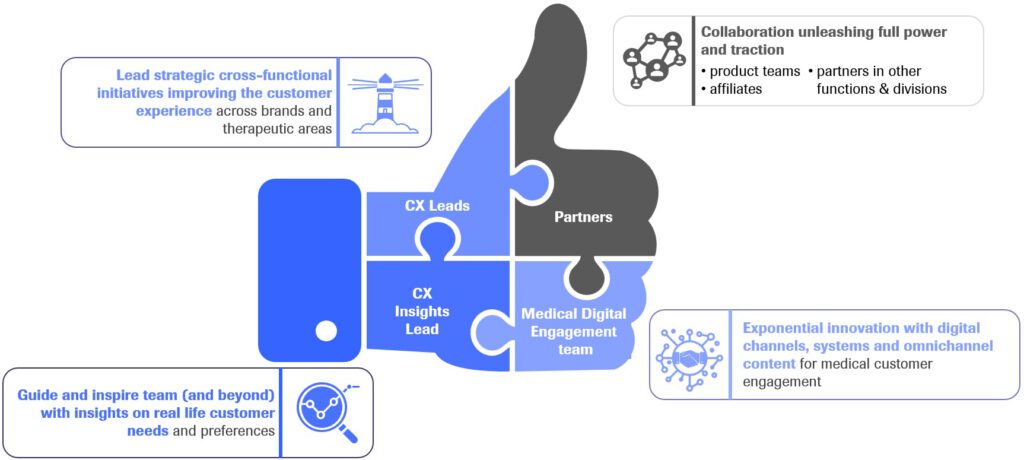 ---
Not to be forgotten, an additional sub-team is fully dedicated to a very specific mission, contributing to an enterprise-wide effort towards a new central corporate CRM system. This integrated set-up has been chosen to facilitate a close connect & alignment between CX team activities and the future CRM ecosystem shining up at the horizon.
Open and collaborative culture as game changer
As you can see, this team is a highly connected expert center, far from accidentally being a silo. The team hardly does anything alone. They typically closely collaborate with partners across the whole organization. And every time they want to explore or start something new, the first and natural question is "who do we need to reach out to and work together with".
Living an enterprise mindset and consequently following integrated & collaborative approaches are key to the success and high performance shown. Honestly spoken, serving such a rich portfolio on global layer would anyhow be a mission impossible with the limited resources of the team alone.
The cross-enterprise collaboration is also lived by very concrete projects. One example is a collective approach for customer feedback across customer-facing medical platforms (VoC). There, a colleague from the production division joined the team on rotation for a couple of months, and worked as an integrated member on the solution. Beyond the additional workforce, this added an additional viewpoint to the innovation process. And it also allowed to identify opportunities for cross-divisional coverage. On top, this finally sparked the establishment of a dedicated CX role in the production division, that – based on the shared journey – is automatically closely connected to the team. A perfect example of the power and huge potential of cross-departmental collaboration.
---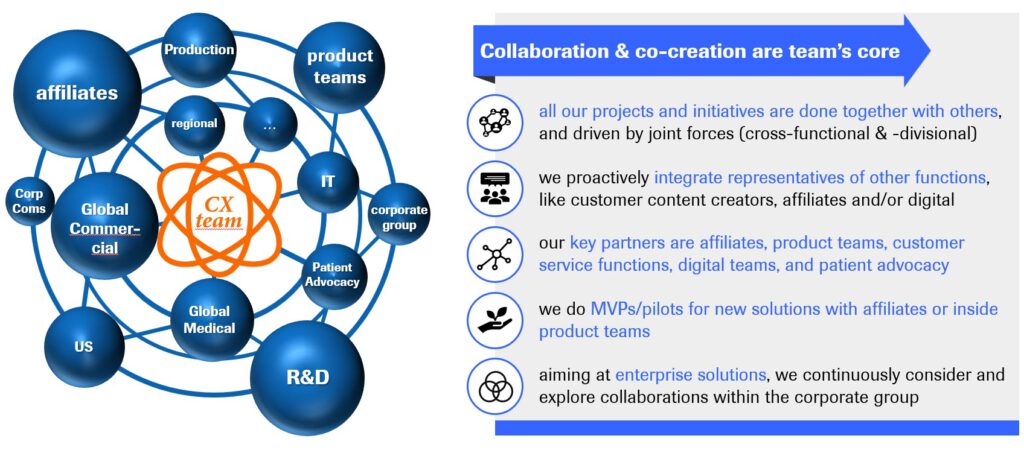 ---
Guiding principles for integrated and efficient teamwork
The true power of this team is the highly connected collaboration across roles but also with other business teams in the organization. And there are some guiding principles in place to facilitate a seamlessly and continuously integrated way of working … as well as customer impact driven innovation.
have team members who are

passionate about collaboration and co-creating with others

, so it will be a natural behavior shown (inside and outside the team)
provide

stability with guidance on direction

and outcomes, in balance with allowing team flexibility with how to achieve

empower team members to take own decisions and smart risks

, based on agreed and shared priorities
create an

environment of transparency and sharing
And perhaps the most important feature of the team …
Last not least, there is another key feature of this particular high performing team. It is the nature of the people included. The team is gifted by factually all individuals being high performers, self-driven leaders of their projects, showing resilience under challenging circumstances and when facing pushbacks, and being truly passionate about the customer.