In my ecosystem – the pharmaceutical industry – it seems to be difficult for some people to call health care providers (HCPs) or patients our "customers". This particularly concerns colleagues in medical affairs roles. Sorry guys, I know that I might accidentally wrong many of you, but I think it's hard to disagree on the broader observation.
For our relations to HCPs (physicians, nurses, professional caregivers, etc.) I sometimes have the impression that some people forget that a pharmaceutical enterprise is no social welfare organization. Selling efficacious and safe remedies that have the potential to make people's life better is not really a bad thing. And looking at our HCP partners as customers can effectively help to better listen and giving them the feeling that we take them serious. And finally, help to build trusted relationships.
So, here is trick #1. As a pharma CX driver, you need to know and aim to change the logical chain that might be triggered by the word 'customer' from … to …
"customer" = a commercial word = focus is on selling something = the patient/HCP is a victim of sales = bad
"customer" = being interested in someone = listening = being better able to better meet the need = good!
---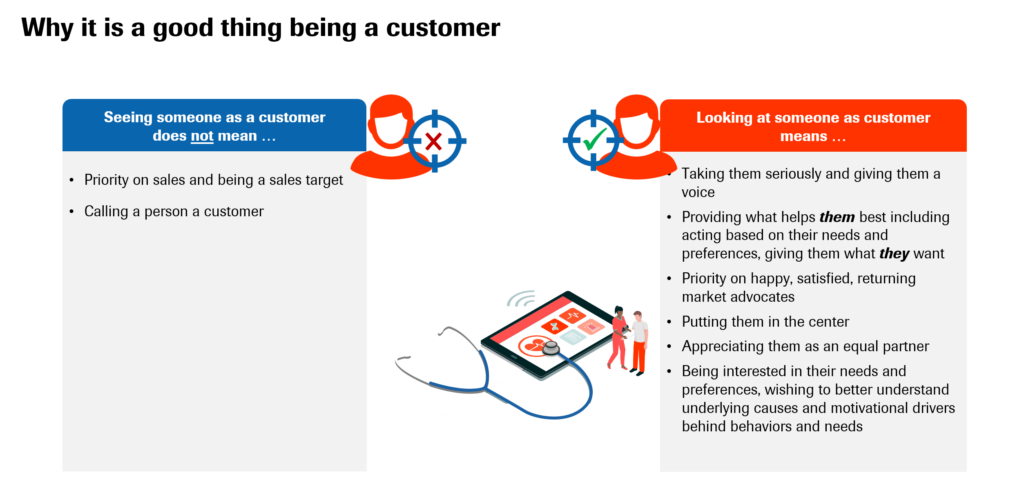 ---
For patients, I frequently hear that they don't want to be called 'customers'. Well, but many of them (especially with chronic diseases) also don't want to be called 'patients', right?
I have to honestly say, that every time I myself had been a patient, I personally wanted to be seen and treated as customer! I don't want to be a processed item in the hospital. I enjoy being a customer.
And this is trick #2. Taking people as customer does not mean that you need to call them 'customers'. It is more how you look at them. Being a customer means for me that someone is interested in what I need. It means being taken serious as a human being.
I am sincerely curious to get your opinion on this topic. So, please feel free to drop a note, please …